Metal Roofs
Advantex Restoration leads the competition as Chicago's premier metal roofing company.
When you are in the market for a new roof, much thought and care go into who will complete the project and what kind of new roof material to choose. There is an abundance of information out there about the best kind of roofs and equally the leading roofing companies, so where do you even begin to tackle this project as a homeowner?
At Advantex Restoration, we lead the roofing industry with simple, straightforward pricing, skilled craftsmanship, and the finest metal roofs in the Chicago area.
Why opt for a metal roof?
Metal roofs are becoming homeowners' go-to choice for roofing options because of the many benefits they offer including energy savings, longevity, and curb appeal.
Metal roofs are a lasting investment.
The initial cost of a metal roof is going to be more expensive than traditional roofing shingles, but in time, it pays itself off because it can last between 30 and 50 years and it is relatively maintenance free — there are no shingles that have to be replaced. Not only is it a wise investment because of their longevity, but they may also even increase the resale value of your home.
Metal roofs offer an aesthetic for every home.
Whether your home's architectural style is mid-century modern or a suburban two-story, residential metal roofs are available in a variety of types, colors, and styles. You can make a bold aesthetic statement or can stay simple and keep within the neighborhood design.
Metal roofs stand up to mother nature.
If durability is on your list of things you need, metal roofs provide outstanding protection against extreme temperatures, hail, high winds, and even fire.
Metal roofs are a smart investment, are extremely durable to Chicago's temperamental weather, and they offer curb appeal.

Isaiah Metal Roofing – Advantex Restorations' Preferred Choice
At Advantex Restoration, we craft roofs with Isaiah Metal Roofing shingles and products. Isaiah metal roofing products are leading the roofing industry as they create their products to reflect eco-sustainability. They bring up the idea that "if you are in the roofing business, you are also in the energy business." Roofs are one of the largest components to how our homes contribute to the structures total energy efficiency — and the roof is the perfect canvas.
We offer a variety of metal shingle roofing products, including:
Oxford Metal Shingle

Rustic Metal Shingle

Clicklock Standing Seam

Universal Standing Seam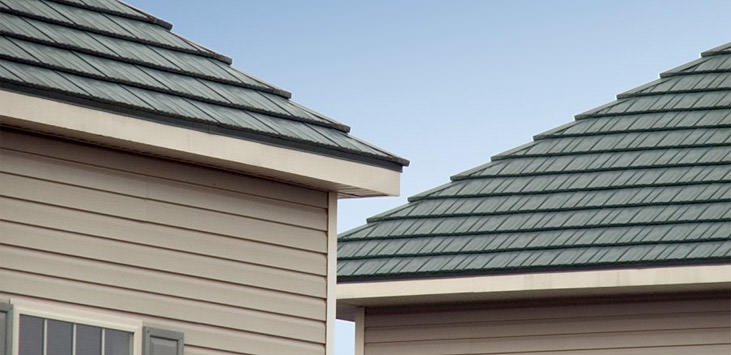 Invest in a metal roof and partner with us for a roofing project that is permanent, beautiful, and saves you money.