Prepare to win this year's decoration contest — safely and damage-free!
Halloween is over, so it's a race to unpack your holiday decorations and start stringing lights — despite what your neighbors think! It's a festive time where you get to bring your creations to life, and, if all goes well, you'll avoid pulling a Clark Griswald stunt (hello, National Lampoon's Christmas Vacation) and instead have a beautiful display that embodies the holiday spirit that will melt the heart of even the biggest grinch!
But, is there a difference in hanging lights on a metal roof compared to the traditional shingled asphalt roof?
In Chicago and the surrounding areas including Plainfield and Naperville, there are many local roofing companies, but at Advantex Restoration, we're the roofing contractors that you can rely on. Join us in today's post as we explore helpful strategies and options for hanging holiday light from your metal roof. 
Deck the halls without damaging your metal roof!
One of the most common roofing questions we get around the holidays is, how do I hang holiday lights from my metal roof? This is a very valid and important question to tackle because most outdoor lighting and decorations have been designed to accommodate gutters and shingle roofs. 
But, you can easily and safely hang traditional holiday lighting from your metal roof for a spectacular display that would make Norman Rockwell proud! Let's explore the strategies for hanging holiday lights from your metal roof below!
Clips or No Clips?
First and foremost, does your metal roof have gutters? If it is gutterless, we'll provide you with more options, but if your metal roof does have a gutter, you can use light hanging clips! These are the clips you'll see in hardware stores right about now and you can place them over the side of your gutter edges that keep the lights securely in place. 
Magnetic Clips
If your metal roof is gutterless, magnetic clips are the solution! Instead of a traditional lighting clip, these magnetic clips can be placed anywhere on your metal roof and are strong enough to support strand after strand of lights. 
Heavy Duty Magnetic Hooks
Thinking outside the box just a bit, are the heavy-duty magnetic hooks that hang holiday lights perfectly. While they're typically used to hang things around the house or in the garage, but they can easily be repurposed for holiday lighting displays. 
One thing to keep in mind is because they are hooks, they will just hold the string so there is not as much stability or precision as the magnetic clips. 
Magnetic Lighting
If you're ready to go all out and invest in new holiday lighting, there is such a thing as magnetic lighting! It's a string of lights where each light has a magnet so it can be hung without clips or hooks!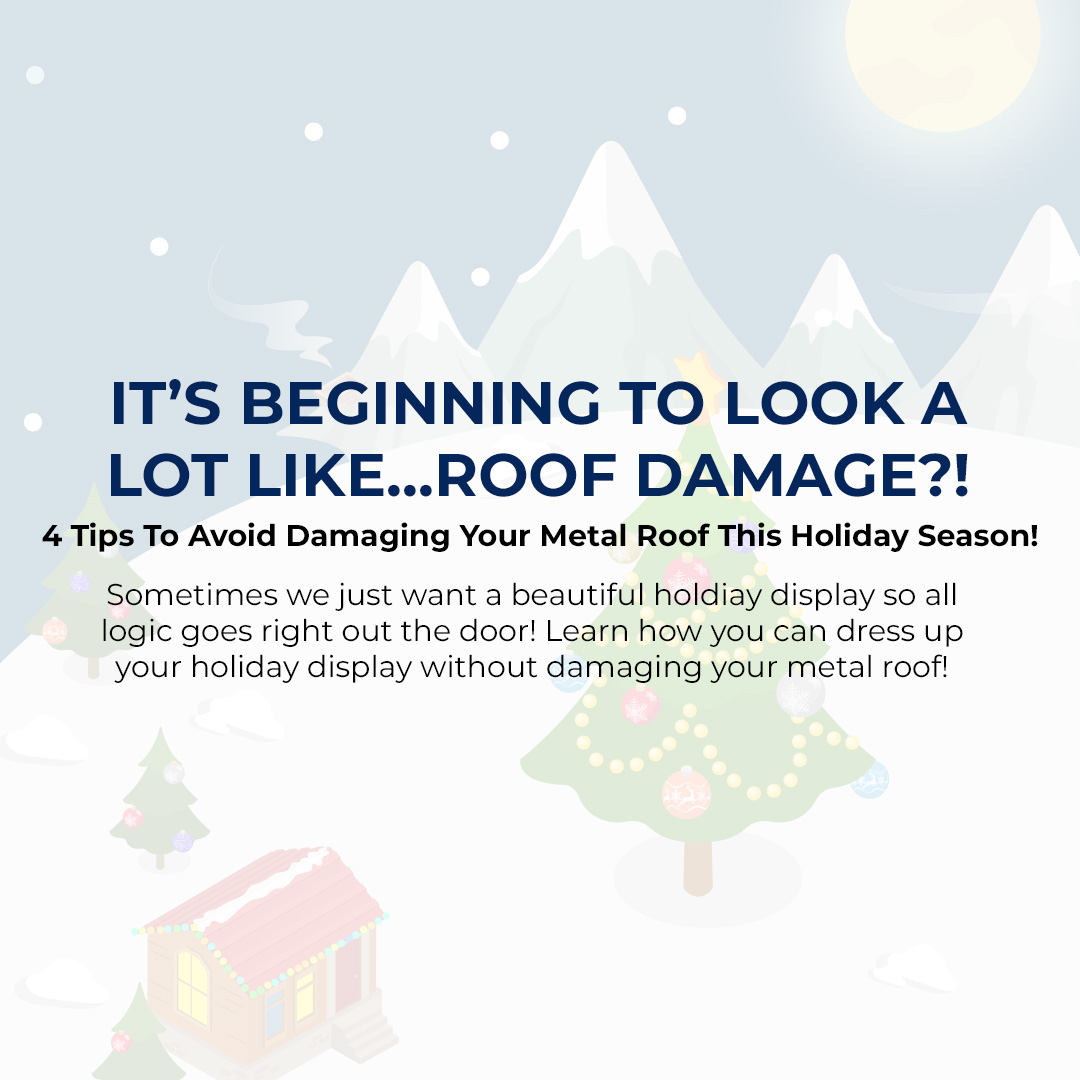 Hanging lights is a great way to kick off the holidays and stir the spirit of the season! And, you can hang lights on any type of roof whether it's traditional asphalt shingles or a metal roof! With a metal roof there are sometimes some workarounds you'll need to consider — especially if it's gutterless — but you have many options including magnetic clips and hooks.   
Are you interested in a metal roof? 
Our roofing experts are based in the Chicago area, and we're here to help guide you through a new metal roof installation — from the type of metal roof you put on down to the color and aesthetics of it. Metal roofs are an excellent choice for those in the midwest because of their durability, longevity, and energy savings. 
Get started with a new metal roof today!